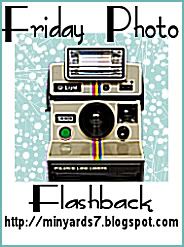 I'm so glad that it is Friday once more. I will be able to post those old and pre-digital day photos again. Thanks Alicia for hosting this. Want to join us? Just click the image above.

I don't have my photo albums yet because Ondoy and Pepeng were here the past couple of weeks and we were unable to visit my parents at Las Pinas. Luckily, I remember I have older photos here at the office, which we used for our wedding video.

I'm not really sure how old he is in this picture nor when was it taken. I think I should build on that. I will make it a project to get to know hubby's childhood more. All I knew is that when they were young, they have the best of the world.

So for me to be able to post the picture below, I has to know little details about first. I asked hubby and he doesn't seem to bother why I was asking.
Here's what I gathered. The picture is taken from the 80s. Yep, Mon and I have a 7 years gap.
From what I get, it was taken at school. He said this is probably his kindergarten graduation.
Isn't he cute?
Hopefully I'll be able to get my albums tomorrow as we're spending the weekend at Las Pinas. Happy Friday everyone!