And so the much awaited reunion materialized after some two weeks of planning, texting and calling. Thanks to Gretz who found a way to be there even if you have work that day. To Aimee and Dhang who drove all the way from Boni and Pasay. To Aika who stayed late even if she so wanted to go home and see Shanelle. Grasya, hopefully sa October 18 uli, wag kang mawawala ha!
Our venue was a Veneto Pizzaria Ristorante in BF Homes Paranaque (although I think that part is still Las Piñas). This is in consideration of me (who cannot leave rather does not want to leave the house without Ayex) and of course, our preggy girlfriend, Aika.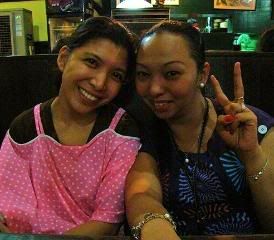 Poor me waited for these girls for an hour! Buti pa si Ayex, busog talaga! Natunaw na nga ung mudslide nia eh kasi tulog xa ng tulog! Then finally, Aimee and Dhang who came all the way from Pasay arrived! I called Aika and Gretel (who we call the marathon girls) again for the nth time (I'm just exaggerating) to ask where they are. Sila ay nawawala pa rin sa loob ng BF! Apparently, they left turned when they were suppose to right turn. Hahahaha!
While waiting for them, the three of us, Aimee, Dhang and me took the liberty of ordering our dinner. We ordered carbonara with chicken, meatballs parmigiana, family platter, and medium size special pizza.
Finally the marathon girls found us! Hoorayyyy! By this time, the food we ordered were all ready! As we eat our hearty dinner, we listened to the much awaited chismis from Gretel and Aimee! Super installment ang kwento ni Gretz, nakaka-antok at nakakabitin! Biro lang Gretz. Aimee on the other hand, mejo seryosong usapan. Si Ayex lang ang distraction namin eh!
It's really nice seeing these girls again after a long time! Too bad wala si Grasya! Very timely din dahil akala nating lahat October 11 pa ang expected date of delivery ni Aika pero kagabi lumabas na si Claine Erich! Tama ba spelling ko Aika? Sayang I had to bring Ayex home already, hindi na ako nakasama sa Starbucks sa Caltex! So was there a huge discount?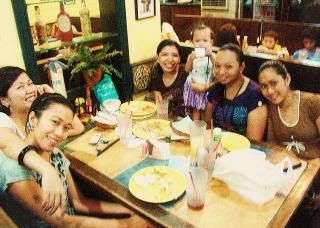 I remember I said something to myself after watching Sex and the City the movie. I said that I wish me and my girlfriends can be like Carrie, Miranda, Samantha and Charlotte. What ever happens, where ever we go, whoever we are already, we'd always re-unite and find time to see and catch up with each other every now and then. I guess this is a good start. Maybe we can do this once every month. What do you think girls?