I always believe in the power of marketing. Back in high school, we were taught that how you market your product can make or break it. Back then, there is only traditional media: print, television and radio. But that did not stop various brands from being successful in their own arena.
After almost two decades, the bars of standard in marketing have greatly rised. Various media are now available in addition to traditional media with the Internet being one of the popular ones. Still, many companies do not just rely on Internet alone. They innovate and collaborate with other companies.
That is exactly what SOLAIRE RESORT AND CASINO did.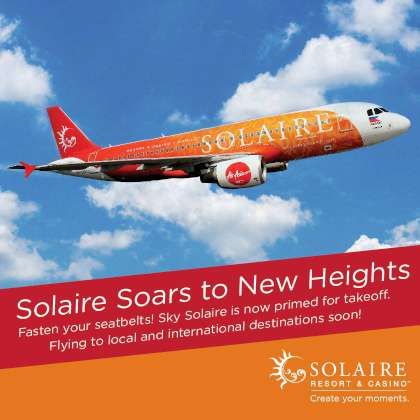 In partnership with Air Asia, Solaire wraps its brightly colored livery on the popular Airbus A320, which is scheduled to embark on its maiden flight this July. Solaire is the first-ever consumer brand in the country to fully wrap and brand a commercial airline, with an underlying thrust of further promoting tourism in the Philippines and in greater Asia.
This dynamic collaboration between Solaire and Air Asia represents another step forward in an on-going journey towards providing modern travel and leisure experiences for its customers. This partnership will surely facilitate more passenger and cargo traffic in both regional and domestic flights, and foster stronger trade, cultural and tourism ties within Asia.
Brilliant, right? Now, I have to teach our two girls about Sky Solaire as they have a habit of naming the airplanes that they see pass our area by. Isn't that an effective marketing already?
Related Posts