My eldest is into Barbie since she was 5 years old. She can watch Barbie movies the whole day. She can play Barbie games online the whole day too. She pretends to be Barbie and changes her name into one of the roles Barbie played. And for someone who did not experience having Barbie dolls of her own, I support Alex in this. Besides, there is nothing wrong with playing with Barbie dolls and all the movies we have seen have moral lessons in them.
And what do you know. Barbie is going to perform live, here in Manila, in a place that is one train ride away from us! How cool can that be? In just a few days, Manila's stage will get a makeover as Barbie, Ken and their friends get their sparkle on! Do you have your tickets already?
Barbie Live! The Musical will happen at the SM Mall of Asia Arena from December 11-15, 2013.
Schedule
Dec. 11: 11AM, 3PM
Dec. 12: 3PM, 7PM
Dec. 13: 3PM, 7PM
Dec. 14: 11AM, 3PM, 7PM
Dec. 15: 11AM, 3PM
Ticket Prices
Front Row: 3400
VIP: 2970
Patron: 2650
Lower Box Center: 1910
Lower Box Sides: 1590
Upper Box Center: 1170
Upper Box Sides: 850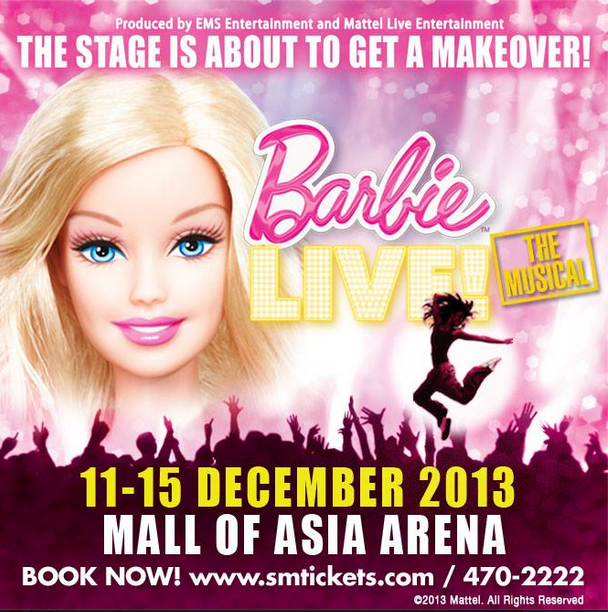 Related Posts