That is certainly what I believe in and is trying to practice with our girls. Actually, I think, girls, no matter what their age is should wear dresses more often. But due to many constraints, we do not. Like us, moms, we will surely have a hard time running after our kiddos at the park if we keep on minding our dress that is being blown away by the wind. But when circumstances permit, wear a dress! I do, and I feel really pretty when I am wearing a dress.
And so, I recently bought my girls custom-made dresses from a friend. I chose a design from Jazzshoppe's collections, took my girls' measurements, sent them to Glenda, and after two days, I got the dresses! I am actually thinking of ordering these dresses for Maxyn, Alex and me so that the three of us will be wearing matching dresses. Maybe when I have extra funds. 😀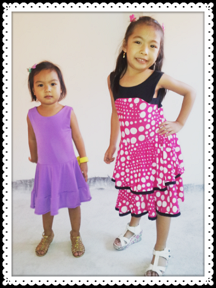 What do you think of the dresses? Like one for you and your princess? Just click on the link above and see Jazzshoppe's wide collection of made-to-order clothing line. Glenda is really easy to deal with, plus she accepts Paypal payments!