It was memorable yet I cannot remember exactly what year it happened. I just remember what happened that day. Pardon the epidural effect. Anyway.
I was born in October, a month that belongs to the rainy season. My mom said there was a typhoon when she gave birth to me so since the time I can already understand things, I knew it would always rain on my birthday. In fact, I get lonely when it does not happen early. I never had a birthday where it did not rain.
This birthday, there was a typhoon. It was a strong one. We woke up with the sound of strong wind whistling above us for we did not know, our roof was already blown away. The cold air has entered our home that was why we did not notice that there was no electricity. It was nearly lunch and my mom is ready to cook my spaghetti when just after the pan got hot, the fire on the stove died. We do not have LPG anymore. I and my older brother went out to buy one because it is the only way we can cook food. The nearby stores were either closed or out of stock. We cannot go home without one and so we decided to go to the nearest Petron station in our area. If you are familiar, the distance of the gas station from our home is like Robinson's Galleria to Boni. The jeepney was also scarce at that time so we just walked. Good thing we do not have to carry the LPG tank as we have a trolley to carry it. At the end of the day, we were able to eat my spaghetti, the electricity was restored as well as our roof.
This is my entry to Jes' Birthday Party!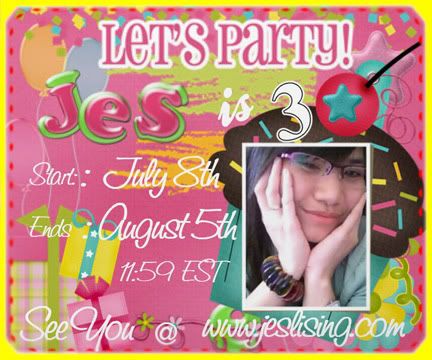 This giveaway was made possible through the following generous sponsors.
*Occasions of Joy*New Home Sweet Home*My Little Angels in America*Kitchen Explorers*Mamee and Me Fashion*The Wonderlusts*Hobby Lovey*
*Flakes and Nuts*Pink Memoirs*Life According To Me* Corsame Lane*Delight my Appetite*I Love Darly*Kerslyn's Comfort Zone*Random Thoughts**Treasure Box*Zowanderer*
* Rabago Family Escapade*Pink Fortune*
* Little Yzzy*Kizuna*Nshima Servings*One Proud Momma*My So-Called Life*Little Zoie's Steps*From Asia and Beyond*My Oweinilife*A Heart Full of Love*Written by Mys* Buzz Online*A Wife's Dream Nest*One Proud Mommy*Sitback and Relax*Certified Photo Addict*Loose It Up*
My So-Called World*Levyousa*Pensive Thoughts*Home Buddies* I Love Hues*The Life Encounters*Music, Movies, Stars Etc.*Jared's Little Corner*Mum Writes*Oh Gosh Gulay*Filipina Blogger*Mom Writes*Kitchen*The Tottering Mama*
Related Posts