I have a thing with white school socks.
For some reasons, Alex's school white socks are not of the same length anymore even if I remember buying exactly the same pairs. It could be the pulling as she puts them on or could be due to the frequent washing. Other than that, overtime, the socks have lost their bright white color.
For the first issue, I tried my best to pair the socks that have the closest length and over-all look with each other. Then I sewed tiny marks on the insole. For the second, I have tried many tricks and home-made solutions already but to no avail.
And then I discovered Perwoll Brilliant White liquid detergent. The packaging says it can turn grayish white clothes to white again through optical brighteners that re-new white colors. It also uses fiber rebonding technology that prevents colors from fading and remove the grey appearing fabrics. I wanted to see for myself the promises of this product so I tried it with Alex's socks.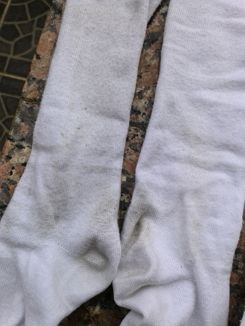 The packaging says mix 60mL of Perwoll Brilliant White liquid detergent with 10L of water for hand-washing. Since I am just washing 4 pairs of socks, I used 6mL with 1L of water. The socks where very dirty so I decided to soak them for an hour. When I came back, some of the dirt where already gone and with just a little rub, I was done. I did not have to use any fabric conditioner as the liquid detergent smells light and good. And despite the very cold water that we have (thanks to the chilly weather), my hands were not dried out after washing all the socks. Talk about a detergent that is gentle to the skin.
I bought this sachet of Perwoll Brilliant White liquid detergent from a local supermarket as it is not available in the sari-sari stores near me. It is made by Henkel and is imported from Germany.
Maybe, if I use this product more often for the socks, they will be bright as new in due time. Oh, that makes me want to try it for the husband's inner white shirts too! You too should try it with your favorite white clothes.
Here is a video of how I used it.
Related Posts