Pork Tonkatsu is one of my staple orders when I eat at Japanese restaurants. I have searched the groceries but I cannot find bottled Tonkatsu sauce. And so when I stumbled upon a Pork Tonkatsu recipe, I knew I must do it.
I have made this several times and and it is always a hit!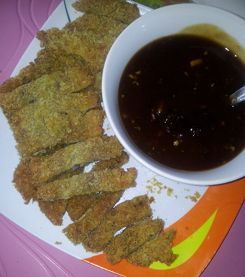 What you will need
Meat
500g pork steak cut
1pc medium egg, beaten
flour for dredging
bread crumbs for coating
Sauce
8tbsp Del Monte Original Blend Ketchup
4tbsp worcestershire sauce
1/2tbsp ginger, grated
1/2tbsp garlic, minced
2tbsp sugar
2tbsp mirin
What to do
Boil the pork for 15-30 minutes depending on their thickness.
Put the pork in a strainer to remove excess water. Reserve the pork stock for future use.
Heat a deep casserole and fill with oil, enough to deep fry your pork.
Make your assembly line: pork, flour, egg, bread crumbs.
Coat your pork with flour; dip in egg, let excess drip; then coat evenly with bread crumbs.
Deep fry each pork and drain excess oil using a strainer. Make sure that your oil is already hot before putting the pork. If it is not the right temperature, you will notice that the bread crumbs are slightly removed from the pork.
Mix all the ingredients for the sauce in a pan. Cover and simmer over low heat while stirring occasionally for 5-10 minutes.
Cut the pork in strips and serve with Tonkatsu sauce while hot.
* I thought I can only get Mirin from Asian stores, good thing I tried in the nearby grocery. Just ask one of the sales people, they should bring you to their imported stuff.
** You can skip steps 1 and 2. I do it to ensure that my pork is already cooked as soon as their bread crumbs turn golden brown, which is approximately 3-5 minutes only.
*** Alternatively, you can use ready frying mix instead of flour, egg and bread crumbs. I like it better though that way.
**** Double the sauce if you are like me, who sips it. 😀