When we go to my mom's place in the south, we go to Festival Mall, Alabang, most of the time. This is because of the train ride the kids frequent, plus, SM Southmall is kind of boring already. One time that we were at Festival Mall, I got the chance to finally try Famous Belgian Waffle. We always sniff the smell of their waffles when we pass by but this store is always packed and we do not like to wait very long.
Their waffles are ok for the price that you pay. For me, it is a good and healthy snack alternative than going to popular fast food chains.
I think this is where my desire to make home-made waffles started. My kids love pancakes to bits but I like the cuteness of waffles. So whenever we go to the mall, we check out the appliance section for a waffle maker. I know a square version of it is available locally at an affordable price. Sadly, each visit left me empty handed. I wanted it so badly that I posted a shout out on my Facebook account.
Then a high-school friend told me that if I could wait, I will have my very own waffle maker in two weeks time courtesy of her and her family. That conversation happened mid of June.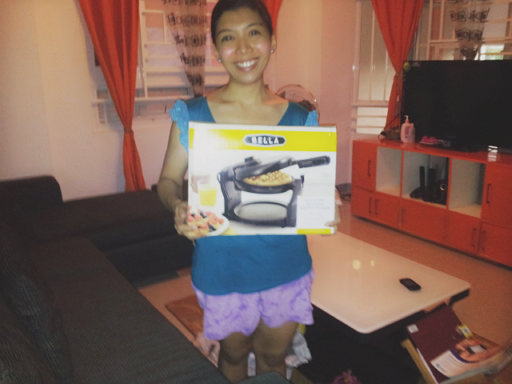 Yesterday, someone got a new toy! Look at my smile, can you tell that I am so excited? Thank you, Prudente-Arellano family! Thank you, Lord, for the blessing of friends!
Related Posts