So I am finally making my long over due post about our Tagaytay trip. Thanks to Picture Collage Maker Free for making it easy for me to collage the photos. 😀
It was Kev's last weekend here in Manila and I and the girls have not bonded with him that much. I really wanted to make time for him because I know, it will take years again before we see each other again. So I planned things out. Absent muna si Alex sa school. Malakas loob ko kasi kakatapos lang ng exam and Friday is simply PE day. It was Thursday when we left for Las Pinas kasi nga dun na kami manggagaling to Tagaytay. I, the two girls, Rossel our helper and Mama Fe commuted to Las Pinas from QC.
Mejo tinanghali kami but it was ok. Our first stop was at Mang Inasal in Olivares. We bought our lunch and went to Picnic Grove. Saktong-sakto. We used one of the picnic tables there na hindi pala free! The one we used costs PhP150 ata but no one approached us for the payment, so libre mesa namin. We ate lunch and started strolling the area.
The highlights of this park are: Overlooking area, zip line, cable car and horse-back riding. Sabi ni Kev, zip lock lang daw yun kasi maikli lang. Nonetheless, excited kami lahat i-try kasi it was our first time. One-way ride of zip line costs PhP200, di pa kasama yung souvenir photo. Pero kami, nilibre nila ng two shots each, siguro kasi marami kami, yes including Ate Rossel. 😀 And yes, I was so thankful I experienced it because my girls rode the cable car with my mom and granny. While Kev and I are on the zip line, they were on the cable car. And no, they were not scared of the heights!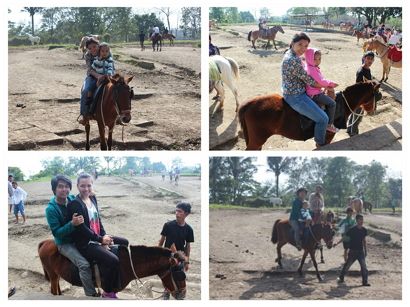 After the zip line, we said we will go to DAP first to check-in. No one among us knew where it is. On our way back to the parking area, we passed by the horse-back riding area. I really wanted for the girls to experience it, lalo na si Maxyn na hindi nakasakay ng kalabaw when we went to Lusiana last year for Undas. So we looked for the man who offered us his horse and made a deal with him. Mejo maliit kabayo nia pero keri lang. Ayoko na magpalit ng ibang kausap to keep my word. Horse-back riding costs PhP200/hr min of 1h. Since sure ako na hindi ako tatagal ng ganun, we bargained na salit-salitan na lang kaming magkakasama. Pumayag naman yung may-ari. Pero malamang kung hindi ko inawat si Maxyn, lumagpas pa kami ng 1h at feel na feel nia ang upo nia sa kabayo! Kita nio, suko na ako, siya sumama pa kay Tito Mikel! Sulit bayad for Maxyn. And up until now, she keeps on saying "ride ako sa horse".
Then we went to DAP na nasa tapat lang pala ng Picnic Grove! Mali pa instruction samin nung guard sa Picnic Grove, tsk! Paglabas daw namin, left lang until we reach the rotonda. Yun pala, paglabas namin, as in yung kabilang gate lang!