The garage might not be among the most important rooms of most homes, but it still serves a very useful purpose. For anyone who is anxious about leaving their car parked outside, does not have a spare room to keep all their tools, spare paint or other DIY items or simply need a space to keep anything that can't be stored elsewhere in the home like a bicycle, the garage is perfect, but like the rest of the home, keeping it safe and secure is a must. Having roller shutters is perfect for that, but what are their benefits?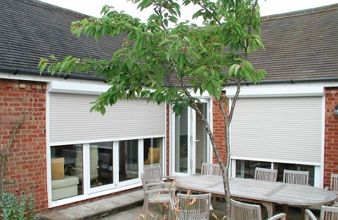 Security – roller shutter garage doors are great for keeping everything inside your garage free from the threat of criminal damage or theft. When they're closed, it is impossible for anyone without access to the remote control to open it again.
Safety – roller shutters are extremely safe to use, as they are able to stop automatically when they see something in the way, whether it's a vehicle or someone who's not managed to get out of the way.
Convenience – one of the best things about having roller shutters is that they can be operated with ease. With the help of a remote control, they can be opened and closed in no time, while they also require very little maintenance in terms of being cleaned or replaced.
Appearance – you might not think that roller shutters can add a lot to your home's appearance, but if you believe that, you will be wrong. Made with sleek metals like steel or aluminium, they can make any home look more expensive, which will add value to it too.