and kicking!
Wow, that is two weeks without updates?! What have I been doing?
Sleep. Facebook. Sleep.
When I put the girls to bed, I pretend to be sleeping. That way, they sleep all the way and stop telling stories. But then, I find myself waking up when the husband is almost home, which means I should not be on the laptop anymore. So I go back to la-la land.
In some cases, Facebook gets in the way. Being socially active keeps you updated of everything, even if you do not watch the daily news. But it can also mess up ones productivity. And so, I have a few friends who now shut their social life and just peak into their account for a breather but never responds to threads. Me, I am still finding what I want to do. LOL.
Aside from that, I have been really away from the laptop during the two consecutive long weekends. I have been spending quality time with family, and yeah, I am tired, and that makes me sleep more! 😀
Anyway, I did some editing in photoshop this evening because the husband gets so irritated with my dark ovals when I ask him to take a photo of me. I have been doing self-portraits recently because I am always the one behind the camera. Time to update my Facebook profile picture!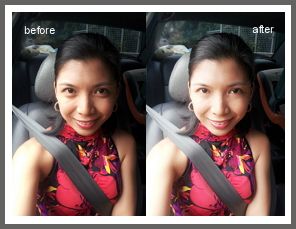 What can you say about my editing skills? 😀
Related Posts