Dati natatakam lang ako tuwing makakakita ako nito. My husband's cousin who lives in Lusiana, Laguna knows how to cook this and so every time we go there (which is twice-thrice a year only), this delicious chicken recipe is one of our staple requests. From the thrice a year visit, we are now down to at least once due to school and work schedule. Buti na lang, marunong na ako ngayon magluto nitong Chicken Cordon Bleu or Chicken Roll to some.
In this recipe, we will be using chicken breast fillets. I do not buy the ready fillets from the grocery as it is pricier than the regular chicken breast. I do the deboning myself, but I do not have a video or tutorial for that. If you know how, great. If not, just buy the ready fillet for now. 🙂
What you will need
2 medium size chicken breasts (deboned) or 4 large chicken fillets
4 slices ham
4 slices cheese singles
2 tbsp all purpose flour
1 large egg, beaten
2 cups breadcrumbs
enough oil for deep frying
plenty of toothpicks
What to do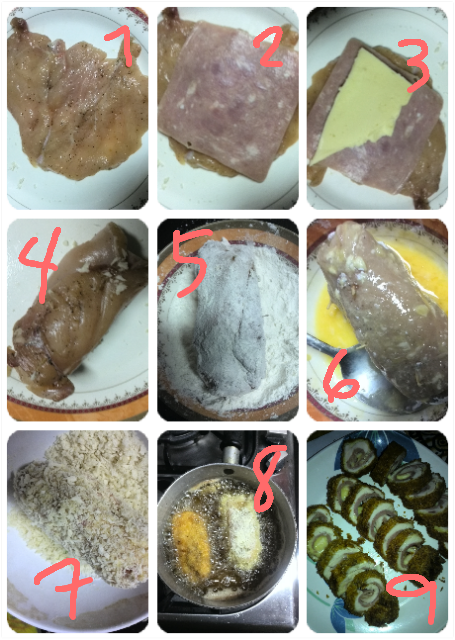 1. Cut the chicken into a butterfly. Wrap in plastic and flatten gently with a mallet. Season with salt and pepper.
2. Add ham.
3. Add cheese.
4. Roll and secure with toothpicks.
5. Roll in flour until fully coated. Pat gently to remove excess flour.
6. Douse in beaten egg.
7. Roll in breadcrumbs.
8. Heat oil in a deep pan. When the oil has no more bubbles (just before it gets smoking), gently put the breaded chicken roll. Fry until golden brown.
9. Let it cool for about 10 minutes. Remove the toothpicks then cut to desired thickness.
My family loves this recipe to bits. You can cook some soup and buttered vegetables to go with this recipe. I hope you and your family will enjoy it too. Let me know. 😉