Let's just say that this two-part book by friends, Sharon W. Que and Clarissa Sereña-de la Paz, is heaven sent. It is like a push to me.
At the school where I had my secondary education, they actually taught us money. Our curriculum was called Business High School. We were taught different business subjects. I guess that was one of the influences why I took up a business-IT course in college. What the curriculum did not taught us, and I am speaking for any other curriculum, is how to have the guts, how to take risks, to be the businessman or businesswoman that you wanted to be.
Sharon said that being born in a family of business people is an advantage but not necessary. In my opinion, being born in the family of business people gives a person that advantage of becoming a risk-taker because he/she have seen people do it and have succeeded.
I did not have that. While I have this desire of having a business of my own, I do not have that pat on my back that says, go ahead, you can do it. And for me that is important. I thought I do not have the capital to start with. I do not have a concrete idea of what I like to have. All I know is that, I want to have a business.
Having read this book is like seeing a light approaching the end of the tunnel. I feel that after quitting my office-based work to take care of my growing princesses, I will feel financial independence again because now, I have a clear idea of what I want to do and how to go about it. Thanks to this book. Plus this time, my husband it with me also. The timing is just so right because we are really looking at exploring business opportunities for additional source of income.
I am usually asked these questions: "Hindi mo ba na-mi-miss mag work? Kapag malaki na ba sila (my kiddos) mag wo-work ka na uli?". And my constant answers are: "Hindi. Lalo na ung nahihirapan kang sumakay pag naulan. Hindi. Magnenegosyo ako.". I feel that I was just given a go signal to finally start realizing again that dream I have always had, tried but stopped. Again, thank you to this book and the authors.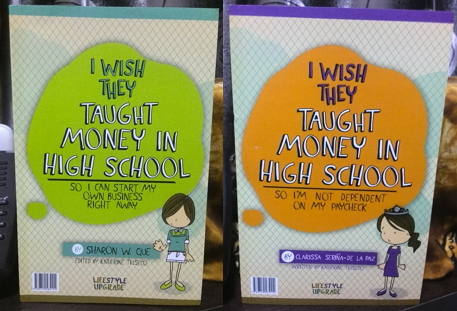 This book is very easy to read and everything in it, you will truly find to make sense. I even found myself really studying the charts in it closely and even found a slight typo-error, if I am right. The cute cartoons in it makes the money-talk a lot easier to digest and that there are no unexplained terminologies.
If you are like me, who have dreams of having your very own business, this book is for you. You can purchase one here. Cheers to FINANCIAL AWARENESS!
Related Posts