My youngest daughter has started to give interest to television. She is 3.5 years-old. Before, she does her thing despite the television on with her Ate Alex, our eldest, watching. Recently, I noticed that when Alex watch musical shows, Max stops playing on her own and looks at the television too. She particularly watches Hi-5.
Once, and I can remember it well, Max and hubby had this conversation while the Hi-5 credits is flashing after the show.
Max: Gusto ko diyan! (pointing to the television)
Daddy: Gusto mo diyan?
Max: Yes! Gusto ko punta diyan!
Mommy: Eh galing na sila dito last time eh.
Daddy: Anak, pwede ko sila papuntahin dito, pero hindi na tayo kakain.
The things we do and think for our children.
Lo and behold, I was on Facebook and I saw this poster a while ago! I was ecstatic! I want to bring Maxyn to the show! (But why is it that the cast is different?) Still, I want Max to experience it! Oh, I pray, pray, pray that a budget can be allotted for this.
Hi-5 will perform live on stage at SM AURA Samsung Hall on December 13-15, 2013. Shows will be at 1PM, 4PM, and 7PM. Ticket prices: VIP – 2120, Patron – 1590, Balcony – 1060, Limited VIP with Meet & Greet – 2650.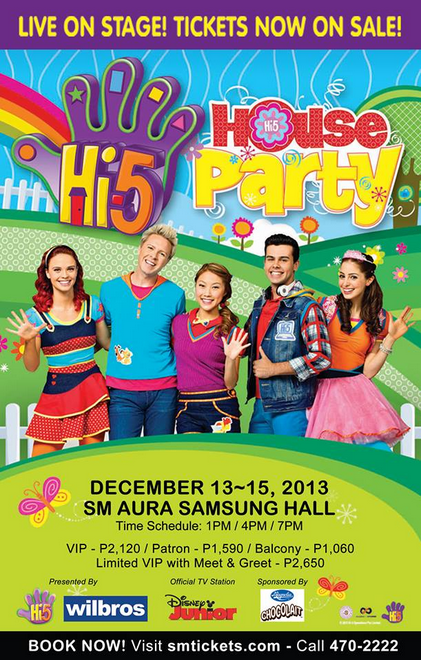 Related Posts