My hubby has been craving for the liempo-sisig we buy in Perpy's, Pilar, Las Pinas. We have not visited my mom for some time now thus no chance of satisfying his craving.
When we went to the grocery, he bought a large chunk of American ribs, visualizing they will be his crispy liempo-sisig. It was a huge success. For this post though, I will just share with you how we oven-grilled the American ribs which we later on transformed into a sisig.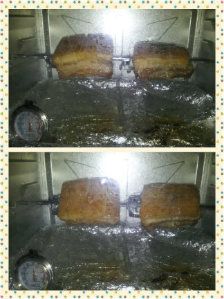 What you need
1kg American Ribs, cut in two large chunks
2 heads of garlic, crushed
salt and ground pepper
What to do
1. Put the pork in a tub, rub with salt, pepper and garlic. Refrigerate overnight.
2. In a deep casserole, put the marinated pork and all the garlic. Add about 2 cups of water and boil for about 30 minutes.
3. Pre-heat your oven to 200 degrees Celsius.
4. Grill the pork for 20 minutes at 200 degrees. Then another 10 minutes at 250 degrees for the skin part only. Brush the pork with its drippings every 10 minutes.
5. Serve and enjoy your oven-grilled ribs!
Related Posts