I am so not feeling well now so I resorted to browsing online in the hopes of making me feel better. Retail-therapy always works for me.
Today, I chanced upon Not On The High Street. Their site features a lot of gift items, from babies' toys to sparkling jewelries. I made a few stops when I saw classic and timeless pearl necklaces. I simply adore them. As I continued browsing, I found a gorgeous Black Multi-way Dress. I want it! I have not seen something like it in the shops near me.
I have a thing with multi-way stuff. I fall in love with them the moment I see them. Let us just say that versatile stuff for me, are to die for. Why not? It is like owning several pieces but you are just paying for one. And no one can tell that unless you tell them the secret.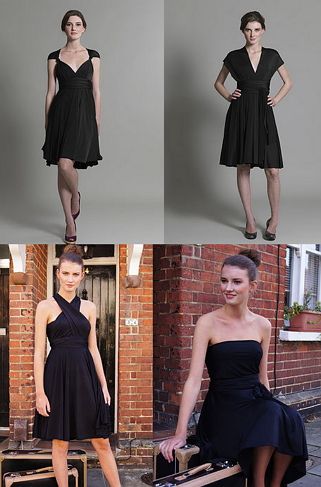 It is lovely, isn't it? You can wear it in four different ways and I love all the styles! My personal favorite is the one on the top-left. This dress is perfect for evening parties, day-out to the mall or even for work. A friend of mine told me once that low-neckline dresses suits me well. Remembering that, the more I want this dress!
I will make an inquiry after I feed the little girl who has been bugging me as I write this one. Ta-ta!