Romance is intrinsic to the idea of flower giving, but since, to some people, it may be a notion that is quite over done in our culture, sometimes we need help coming up with a really original idea. When it comes to the way in which flowers are delivered to the one we love, we need to consider a manner that truly communicates the exact sentiment you have in mind.
Here are some thoughts to take into consideration the next time you have a bouquet to bestow: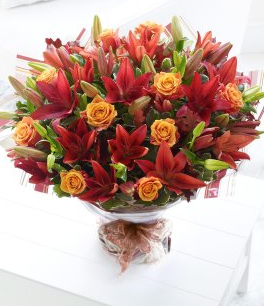 Choose flowers that convey an original statement. Obviously roses are your first choice when it comes to romance, but why don't you think outside of the box a little. Consider the season and look for an assorted bouquet that reflects the seasonal hues.
Always go for quality. Once you have the quality down, you should think about accompanying the flowers with something personal and sentimental like a poem or a picture of the two of you together.
Make it a surprise! Surprise your loved one at their place of work or somewhere they would least suspect to receive flowers.
Think about giving living plants instead of cut flowers. Although the ephemeral nature of cut flowers is at the heart of the romanticism, you could shake up the idea with a growing plant and explain to your loved one how it expresses how your love keeps growing.
Related Posts