The Great Brazilian Madness started last Monday, September 24, at the Trinoma Activity Center. I vowed that I will be there very early on the first day. Since Saturday, I have been reminding my husband about my Monday plans, just so you know, there will be no problems, since I am really busy during weekday mornings as my eldest goes to an afternoon a noon class at school.
So I made sure I prep the eldest early and left when she was about to eat her brunch. I was at Trinoma at about 10:15AM. I thought there will be less people since it is still very early but lo and behold, I found a long line around the activity center! The organizers made sure people will come in in an organized manner. Kudos to them for doing that. I just wished they handed us with eco bags already where we can put our loots upon entering (which they did after a while to other buyers). I was holding several pieces already when I realized my hands cannot hold them anymore. In less than an hour, the activity center was jam-packed and the lines to the cashier was already long!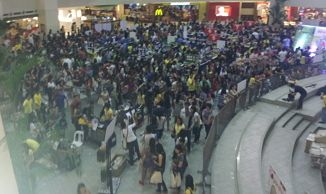 I was a bit disappointed for the kids' collection because the ones I like do not have sizes for my tots. These are the buy 1 take 1 pieces. I still ended up buying two pairs for each of the girls. Aside from the long lines at the cashier, I have no other qualms about this sale. (Oh, I remember that there were people who bought stuff by boxes, and what they got were not displayed at all. I just wish there will be equality among all buyers. Well, sila na ang may koneksiyon.)
I love that there are such sales near me. If this sale was held in The Fort, even if I want to buy myself and the girls some of these Brazilian footwear, I will not go.
This is my loot. I bought 14 pairs, 1 not in the picture. I spent more or less PhP5500. Kelangan kumayod ng bongga!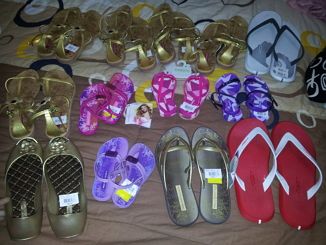 If you will go to such sale events in the future, I suggest the following:
1. Do not bring any kids. The place will become too crowded and many people are not considerate enough. Wala silang paki-alam kung mabangga nila ang ulo ng anak mo as long as they get what they want. Instead, be sure of their sizes.
2. Be early. Maaga na ako ha pero mahabang pila pa rin inabot ko.
3. Bring food and water. Kahit makapili ka agad pero mag-isa ka, you will spend most of your time lining up at the cashier. So you will not get hungry like what happened to me, bring something you can eat and drink. Special thanks to Ms. Reg of Jollibee Trinoma for buying my food.
4. Bring someone with you if possible so that someone can line up to the cashier while you buy your stuff.
5. Bring a lot of patience.