I was meaning to write a "welcome -ber months" post since September came in but with sickly girls, I am unable to open the laptop at night even when they are asleep. The blue light from the laptop wakes them up and I hate it when their sleep gets disrupted.
Anyway, I hope all this sickliness comes to an end soon because I am so excited for the coming -ber months. October is my birth month. November, I am looking forward to a grand reunion with my elementary classmates. December, I am hopeful that we will have a different and one of a kind Christmas!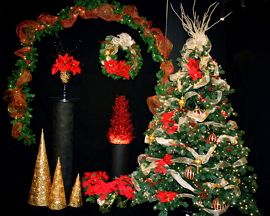 I am itching to take out the Christmas tree from the box and all the decorations. Or maybe, we will donate the old decorations we have and give way to a themed Christmas tree this year. I am sure, my eldest daughter will say pink and purple if I ask her what theme she wants.
The previous Christmas eves and days that we had were spent either here with my in-laws or with my family in Las Pinas. This year, it will surely be different since many in our family are abroad. Prayerfully, they could spend the holidays with us. And prayerfully too, we will not have to raffle where we will spend the eve and day like what we used to do previously. Hopefully, this year, we could spend the holidays under one roof, with all our dear relatives in our home. It will surely be a blast!