Two of my mommy friends, Mommy Kat and Mommy Ruby, are holding a Thanksgiving Giveaway for their princesses, Max and Bella.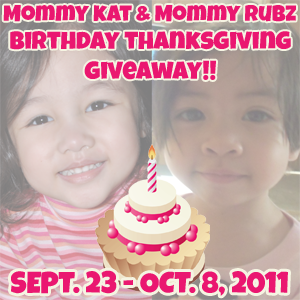 There are 38 blogs sponsoring this event and a total prize pot of $380 can be won by 6 winners. This giveaway event is open worldwide to anyone with a Paypal account during the event or right before the winners are announced. If winners do not reply to the email within 48 hours with their Paypal email address, another winner will be drawn.
There will be a total of 6 winners for the total prize of $380.
– 2 winners for $100 each,
– 2 winners for $60 each, and
– 2 winners for $30 each
Note: Prizes are gross amounts. Should there be fees during the transfer of payment, it will be deducted from the prize (for cross-country transactions). If there are no fees, then you get the whole amount.
Click on the jump to start earning points to win.
Related Posts