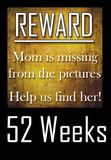 52 Weeks is hosted by Carin of Forever in Blue Jeans. It is a year long challenge for YOU to be in a picture once a week for 52 weeks. We are always the ones behind the camera, this is YOUR chance to get out in front and be in the pictures with our family. We are glad you are joining this challenge. More importantly your family will really enjoy having you in the picture. Thanks for playing along! Oh, you can just jump in now with 1 of 52, you're not getting off that easy! Now go take a picture!
I have a narcissist post for today.
Below is the wonderful dinner I had last Tuesday. It was fulfilling to my tummy, another satisfied craving.
Itlog na maalat, skinless longganisa, daing na bangus and pritong tilapia equals love.
My tummy got super full after dinner and I got curious on how I look thus the photo below.