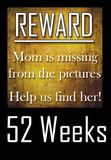 52 Weeks is hosted by Carin of Forever in Blue Jeans. It is a year long challenge for YOU to be in a picture once a week for 52 weeks. We are always the ones behind the camera, this is YOUR chance to get out in front and be in the pictures with our family. We are glad you are joining this challenge. More importantly your family will really enjoy having you in the picture. Thanks for playing along! Oh, you can just jump in now with 1 of 52, you're not getting off that easy! Now go take a picture!

I'm lucky enough to have another picture to post for this week. I love it!

Last week, we went to Las Piñas earlier than usual. I took a leave on Friday so we end up spending 3 days there. Too bad we had to pass up for the Halloween and Family Day celebration here at the office. Anyway, my Friday was pretty accomplished. I cooked shrimp again after a long time, which I'll share with you in another post.

In the meantime, check out the photo below.
Busy looking at the kids running around the pool
This photo was taken in a baptismal party hosted by Mama Val, Mon's officemate. It was so timely because we're very near to the place. It was a swimming party for the older kids. At first, Ayex is a bit confused what she really want to do that Saturday. First, she would say she will go to the swimming party. Later on, after lunch, she said she wanted to go to the mall and play arcade instead. I'm amazed that at 2.9yo, she is able to communicate already what she wants and resolves her own conflicts. So if you guessed it already, yep, we end up going to the swimming party.
The moment we went inside the clubhouse hall, she kept on peaking at the pool side and saying Ligo na, ligo na (I want to swim now). And the whole party hasn't started yet because the baby we're welcoming to the Christian world is still not there!
But I wasn't able to keep her away from the swimming pool for long. After a while, I allowed her to dip her feet, which she enjoyed a lot. Later on, we found out that we likes that better than dipping her whole body. And you know what, before I could stop her, she stood up and sat on the water, soaking her nappy. I was then forced to change her into her swimsuit. What a very smart kid!
Enjoying the cold water
Related Posts