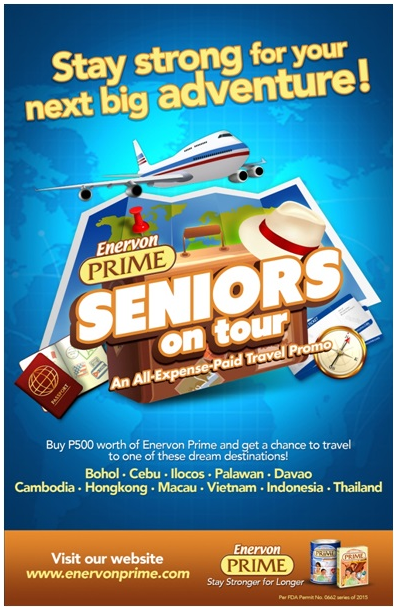 Who says you're too old for a new adventure? Not Enervon Prime! With Enervon Prime Seniors on Tour travel promo, adults age 50 and up have the chance to travel with two friends or family members to a domestic or international destination—for free!
Joining is easy: you only need to buy P500 worth of Unilab's Enervon Prime adult milk variants, upload the proof of purchase, choose from the list of destinations, and share a video why you like to travel to your chosen destination. You can log on to www.enervonprime.com to register and send your entry. You can also find in the website the list of supermarkets where the Enervon Prime Seniors on Tour video booths are set up so you can submit your entry.
A family member may send an entry on behalf of the senior. Two seniors will be chosen to win any of the tour packages in Cebu, Bohol, Ilocos, Palawan, and Davao, while another two seniors will be chosen to win any of the international tour packages in Cambodia, Hongkong, Macau, Vietnam, Indonesia, and Thailand.
"The Enervon Prime Seniors on Tour travel promo pays tribute to seniors—our parents and grandparents–who make the most out of their lives by keeping their bodies healthy and their muscles strong so that they can take on new adventures," says Enervon Prime product manager Barry Barrientos. "What better way to have an exciting adventure than an all-expense-paid travel escapade?"
[Read more…]